WHO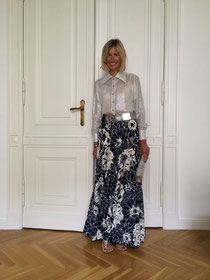 luxurydejavu, established in 2012, delights and surprises you with its ever changing pieces. luxurydejavu is an online boutique SELLING an eclectic mix of  fashion, vintage pieces and more . We only keep unique pieces and small series in stock. 
SEE-LOVE-BUY
"Fashion has increasingly become a matter of connoisseurship - the abiliy to recognize the best pieces, to track them down, to integrate them into a personal style and to wear them in a way that is timeless", Holly Brubach, Fashion Critic and Author, from A Dedicated Follower of Fashion, 1999
As a woman in my early 40ties I started my own private, little online shop. Establishing luxurydejavu is the result of friends&family asking me how to style, where to buy fashion, and how to feel comfortable day by day. The answer is here: I am happy to show extraordinary pieces on luxurydejavu, which I have selected for you. Every piece fits well and makes you feel good day by day. They are ready to wear and easy to shop on luxurydejavu.com!
Be I N S P I R E D and create your style by SHOPPING on luxurydejavu.com!